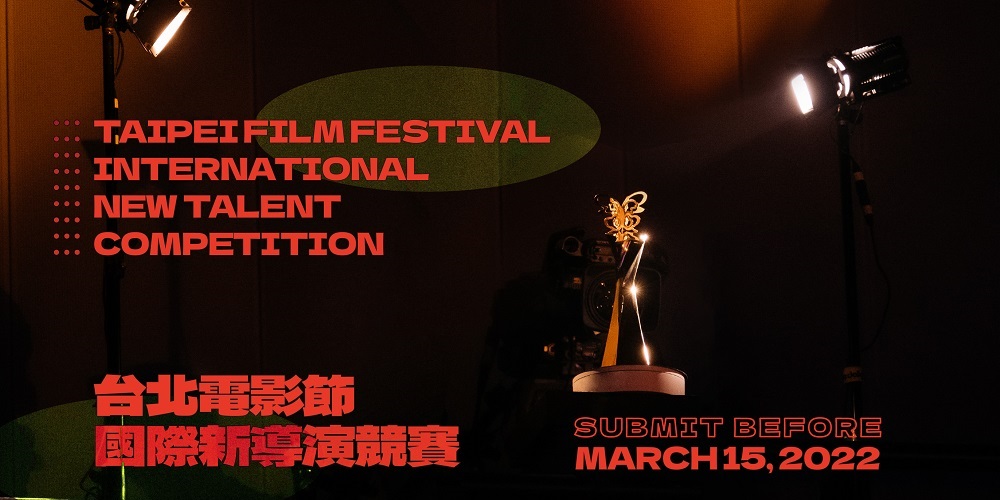 Submission Open for International New Talent Competition of 2022 Taipei Film Festival


The 24th Taipei Film Festival (TFF) in 2022 will take place from June 23 to July 9. The submission for one of the festival's hallmark film contest, "International New Talent Competition", will start from January 15 and end on March 15. Emerging filmmakers worldwide are welcomed to submit works that meet the competition criteria, making TFF a starting point for them to connect audience and to venture into the world.

International New Talent Competition is Taiwan's only international film competition that dedicates on debut and second feature films by emerging filmmakers worldwide. Focusing on the talents' potential regarding form, narrative, mastery of subjects and aesthetic style, the competition selects and introduce 10 to 12 films every year. The competition offers the Grand Prize ($600,000 NTD cash prize) and the Special Jury Prize ($300,000 NTD cash prize) selected by five juries, as well as the Audience Choice Award and Taiwan Film Critics Association Award. Submission details are available at
https://www.taipeiff.taipei/intc.aspx
.
International New Talent Competition has been an important window for local audiences in Taiwan to appreciate emerging talents and cutting-edge cinema trends worldwide. Many distinctive filmmakers have emerged from this competition, such as Nadav Lapid (director of the 2019 Berlinale Golden Bear winner Synonyms) won the Grand Prize in TFF's International New Talent Competition in 2015. The director of After Yang, kogonada, also presented his debut feature in this competition. The last edition of International New Talent Competition in 2021 included 12 selected films from 18 countries. The Grand Prize went to the 31-year-old Vietnamese director Lê Bảo for his fantastic and poetic debut feature, "Taste", while the Special Jury Prize and Taiwan Film Critics Association Award went to Serbian director Milica Tomović for her "Celts", a film reflecting epochal shifts and social dilemmas in Serbia. By presenting a cinematic carnival composed by visual diversity and vitality, this competition is must-see of the annual TFF.

To select the most promising and innovative works, International New Talent Competition introduces perspectives of juries with diverse cultural backgrounds. Filmmakers invited to join the jury include Trần Anh Hùng (winner of the Golden Lion at the Venice Film Festival), Ruben Östlund (winner of the Palme d'Or at the Cannes Film Festival), Hamaguchi Ryusuke (director of "Drive My Car" which won the Award for Best Screenplay at the Cannes Film Festival), Pema Tseden (Golden Horse Award-winning director), and renowned Japanese director Yamashita Nobuhiro, who jointly selected new stars in the international filmdom.
The submission for the International New Talent Competition in 2022 starts on January 15 and ends on March 15. The shortlist will be announced on May 16, and the winners will be announced during the festival.